Size chart
Women's clothing size
| Size | XS | S | M | L |
| --- | --- | --- | --- | --- |
| Euro | 32/34 | 36 | 38 | 40 |
| USA | 0/2 | 4 | 6 | 8 |
| Bust(in) | 31-32 | 33 | 34 | 36 |
| Bust(cm) | 80.5-82.5 | 84.5 | 87 | 92 |
| Waist(in) | 24-25 | 26 | 27 | 29 |
| Waist(cm) | 62.5-64.5 | 66.5 | 69 | 74 |
| Hips(in) | 34-35 | 36 | 37 | 39 |
| Hips(cm) | 87.5-89.5 | 91.5 | 94 | 99 |
How To Measure Your Bust
With your arms relaxed at your sides, measure around the fullest part of your chest.
How To Measure Your Waist
Measure around the narrowest part of your natural waist, generally around the belly button. To ensure a comfortable fit, keep one finger between the measuring tape and your body.
A comfortable bivy bag with a tent pole arch in the head area (single pole supported). There is enough space at the head end for equitment that needs to be at hand day and night. The L-shaped access openning can be closed with 2 zippers. The specially designed storm flap ensures that the zippers are sealed to be absolutely waterproof. The 5 loops on the back of the XP-two keep the insolation mat in place.

BIVY BAGS
A bivy bag can be necessary if you do not find a site for a tent, are forced to sleep outdoors or just don't want to carry a tent. That means a bivy bag can be essential for comfort and for survival! We use only best materials available on the market:
GORE-TEX® Gas Permeable Technology
is a unique three-layer laminate, absolutely waterproof and extremely breathable. Unlike the GORE-TEX® Membrane, that is used for clothing, GORE-TEX® Gas Permeable Technology is air-permeable As a result, our bivy bags can be closed completely, providing absolute weather protection along with great comfort.
CARINTHIA BIVY BAGS AND GORE-TEX® GAS PERMEABLE TECHNOLOGY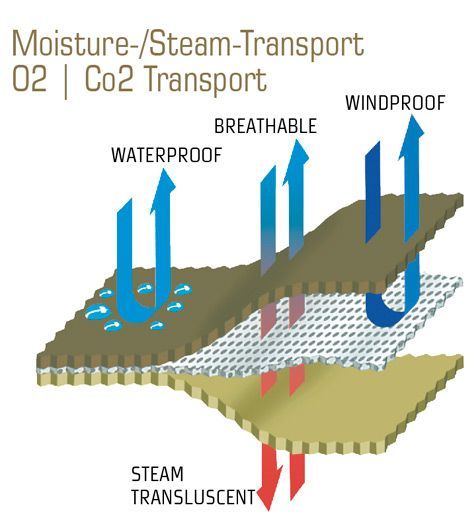 O² AND CO² PERMEABLE
The CARINTHIA Bivy Bag Systems with
Gore-Tex® Gas Permeable Technology
is a waterproof and windproof multifunctional cover with perfect properties for all military activity in wet terrain and in rain. Its unique GORE-TEX® laminate is not only extremely breathable, but also permeable to oxygen and carbon dioxide in the ambient air. This means it is possible to create a completely closed waterproof and windproof environment for sleeping within adverse weather conditions. Air permeability of the system has been tested to a depth of 1 m of snow.
LESS WEIGHT AND VOLUME, MORE FLEXIBILITY
GORE-TEX® laminate for sleep systems is designed to be light weight and packable. To achieve the best balance of durability and light weight a combination of materials can be used with a lighter weight gas permeable fabric for the top cover, and a robust laminate for the ground sheet. This gives the best balance of weight, durability and protection.
PROTECTION AGAINST COLD AND WET
CARINTHIA Bivy Bag Systems with Gore-Tex® Gas Permeable Technology demonstrate excellent insulation properties and to the soldier they mean additional protection against the cold, especially when closed. The condensation of moisture vapour on the inside is reduced and any condensation water that occurs is quickly transported to the outside.
Material & Specs
3 Layer GORE-TEX® Laminate
Outer fabric: 100% PA 6.6
Functional layer: ePTFE based Membrane
Bottom lining: 100% PA 6.6
Dimensions (cm): 250/104/76
Pack size (cm): 35x10
Weight (g): 1.185
Read more
Show less